'Scenes and Songs from Fannie Lou' to be Staged at Hunter College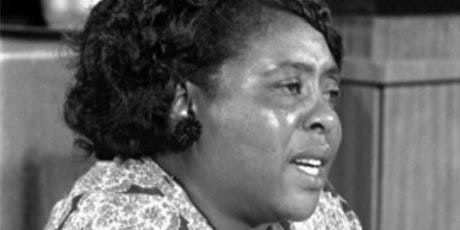 FANNIE LOU HAMER
To vote, or not to vote?
That is the question for some who say they're undecided about casting their ballot this November.
But those thinking about not voting might want to think again after considering how difficult it was for many to exercise that right just a few decades ago.
The struggle for voting rights is the central focus of Fannie Lou, the acclaimed musical inspired by voting-rights activist Fannie Lou Hamer. Selected songs and dialogue from the musical will be performed this fall, just weeks before what many are calling one of the most polarizing elections in the country's history.
"Scenes and Songs from Fannie Lou" will be held Saturday, Oct. 22, in Lang Recital Hall at CUNY's Hunter College. A perspective-setting discussion will precede the performance, and time will be allotted for a brief post-performance Q and A. Running time for the entire event is approximately two hours.
"Over the past few weeks, I've seen and heard so many – too many – comments from people saying the political landscape leaves them underwhelmed, and they're not going to vote this fall," said Felicia Hunter, composer and lyricist of Fannie Lou. "But I don't think those people have really taken the time to stop and think about the difficulties many had to endure to exercise their right to vote. Some were even killed -- just because they wanted to vote. If the people who say they're not going to vote this November were exposed to that long, hard struggle to gain the right to vote, I think they would change their minds."
Fannie Lou helps provide that exposure, said Felicia, who was inspired to write the musical after reading a biography about Fannie Lou Hamer.
Mrs. Hamer was a poor, uneducated Mississippi sharecropper who gained national attention in 1964 after describing impediments placed before her and other Africans Americans fighting for the right to vote. At one point Mrs. Hamer was jailed and beaten because of her voting-rights efforts.
"She is among the freedom fighters who put their lives on the line for what they believed," noted Felicia, adding, "Her bravery helped influence lawmakers to pass, and President Lyndon Johnson to sign, the 1965 Voting Rights Act."
Audience members who have seen "Scenes and Songs from Fannie Lou" describe it as "amazing," "moving" and "powerful."
Fannie Lou is an original musical that shows the voting-rights struggle from a number of perspectives via an ensemble cast. The score is an eclectic mix of blues, jazz, soul, opera, spoken word and traditional musical theater. While true and organic to the period – the setting for Fannie Lou is rural Mississippi in the early 1960's – the music also "is able to reach beyond decades to connect with 21st-century audiences," noted Felicia. "That's what I think our audience members find so compelling about the music. It doesn't try to refashion history aurally. Rather the music, which like the story of Fannie Lou Hamer was thoroughly researched, is framed with instrumentation and arrangements that you actually could have heard 50 years ago. Audiences are transported by it, yet they find the themes so universal that they're also able to connect with the music on a contemporary level. That's exciting."
Demo versions of selected songs from the score are available for free download on the Fannie Lou Musical website.
Performances have been staged in a variety of geographical locations and venues, from a community arts center in Washington, DC, to New York City's world-renowned Carnegie Hall. Productions have routinely experienced sold-out crowds and standing ovations.
Ticket information can be found here on the website and here. Groups wishing to attend the performance should email info@fannieloumusical.com. There's also a chance to win a free pair of tickets. For info, please go here.

Come for the art. Leave with the knowledge.